Redesigned with safety in mind.
Areas differ per location. Be sure to find and check your location.
AVAILABLE
Fitness Floors
We have re-designed the spacing and equipment through machine closures to ensure members can workout safely. Fitness floors will have a restricted capacity and all members will be asked to wipe machines before and after use.
Indoor/Outdoor Tracks
Tracks will be open and all walk/runners will be asked to social distance. Masks are required on all indoor tracks in compliance with our Mask Policy.
Group Exercise
Each location will be running a limited schedule with capacity limits. Floor guides will be there to help all participants and staff remain 6ft apart. For classes that require mats, we ask that members bring a mat from home.
KidsZone/Child Watch
KidZone babysitting will be open but with limited hours, social distancing, and capacity limits. All soft toys will be removed and advanced cleaning procedures will be in place for toys and high-touch surfaces.
Swimming
We will be having a limited capacity for lap swimming at applicable locations. Pool activities such as swim lessons and clubs will be limited in capacity and run on modified schedules. Individual locker room and swim deck guidelines posted per location.
Locker Rooms
Our locker rooms will be open for use with social distancing guidelines in place. Please follow all signs and instructions at your location. Showers will be open and available as well with enhanced safety and cleaning procedures.
Indoor Courts
Our gymnasium is open for our members to enjoy time together at the Y playing basketball, pickleball, and racquetball! View your Y location for details. You can find Open Gym Times HERE.
Saunas, Hot tubs, and Steam rooms
Our saunas, hot tubs, and steam rooms will be open for use with social distancing and capacity guidelines in place. Please follow all signs and instructions at your location.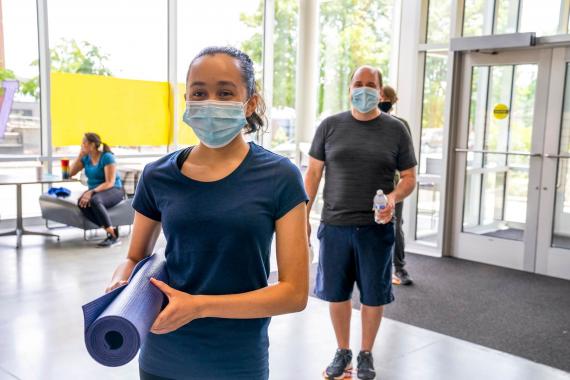 Your safety is our priority. 
We have developed comprehensive safety procedures aligned with top CDC and health official guidance. We have also reworked the set-up of our locations, to make sure you can resume your health journey with the most peace of mind possible.
We have taken extensive action to keep you and your family safe upon your return. This includes spacing on our Wellness Floor and in Group Exercise Studios, program scheduling, comprehensive cleaning, and thorough disinfecting. Masks will be required at select locations.
Mask Policy