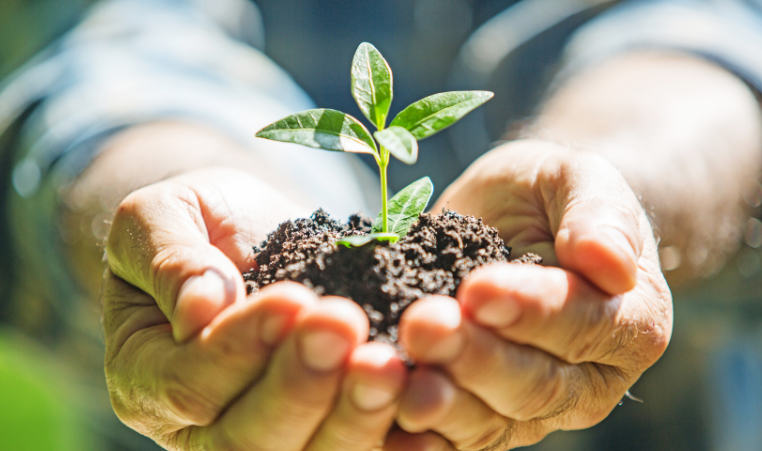 Happy Earth Day, neighbor!
Every year on April 22, Earth Day is celebrated to raise awareness of the state of our planet and ways we can all do our part to keep it healthy and safe – just like we do with our own bodies and minds!
Today marks 51 years of Earth Day celebrations! While it may look a little different this year, we found some fun and easy ways to participate in Earth Day 2021 from safely home.
Grow a garden, even while indoors.
While you might not have the space to grow a community garden as we do at the Haverford YMCA (that grows over 3,000 pounds of food a year to feeds our local community!) you can still grow your own fruits and vegetables from home.
Did you know you can re-grow plants from fruits and veggies you are already eating like potatoes, onions, and celery? Check out this article on 20 Vegetables You Can Re-Grow From Scraps. Also, be sure to check out these helpful articles:
Take a walk and re-discover nature in your neighborhood.
If you can safely take a walk (while social distancing, of course) explore your neighborhood or local park and learn about the animals and plants that live there. Use the Native Plant Finder website to see what plants and animals live next-door.
Can't get outside safely? No worries! Experience the magic of nature with Disney through the Disney's Wilderness Explorers at Home on the My Disney Experience app.
Share the joy of Earth Day through art.
In celebration of Earth Day 51, here are some directions to printable coloring pages to engage your creative side. Print out one of our coloring pages below to hang in your window, then share pictures of your completed artwork on social media using the hashtag #EarthDay2021
Learn about recycling and fun ways to do it.
Explore how reducing, reusing, and recycling can help you, your community, and the environment by saving money, energy, and natural resources. The EPA has great learning resources and tips for recycling, reducing food waste, what to do with used electronics, and more!
Looking for a fun way to introduce recycling to your kids? Check out this article on 19 Activities for kids to Learn About Recycling which includes fun activities like building a robot, playing games, and making a bird feeder.
Explore our National Parks from your home.
Find Your Virtual Park from anywhere in the world with ways to stay connected to parks through digital experiences, including social media, virtual tours, webcams, and games and activities!
Blast off with NASA for Earth Day.
To help get you started, NASA has collected activities, videos, special programs and other materials to help you observe the holiday with our Earth Day Toolkit. You also can find a variety of agency-wide resources at NASA at Home and at NASA STEM at Home, as well as in Spanish on Ciencia de la NASA.
Earthfest 2021 from home.
The American Museum of Natural History in New York has created a family-friendly, all-day online festival to honor the planet. Participate in earth trivia, travel to outer space, learn about the history of Earth Day, and more.
Spend time stargazing.
Nothing quite connects us back to the earth like a fun night under the stars. Here are 4 Easy Tips for Better Stargazing from National Geographic and Tips for Spring Stargazing from Travel+Leisure. Want to know what to look for from your house? Check out the PBS tool Your Sky Tonight, a star chart designed to get you out learning the night sky within a matter of moments. Just set it for your time and location, make a few tweaks if you like for personal taste, and print it out. 
Watch and learn with Disney.
Disney+ recently released Disneynature's "Elephant" and "Dolphin Reef," which come with a downloadable activity packet, perfect for kids learning from home.