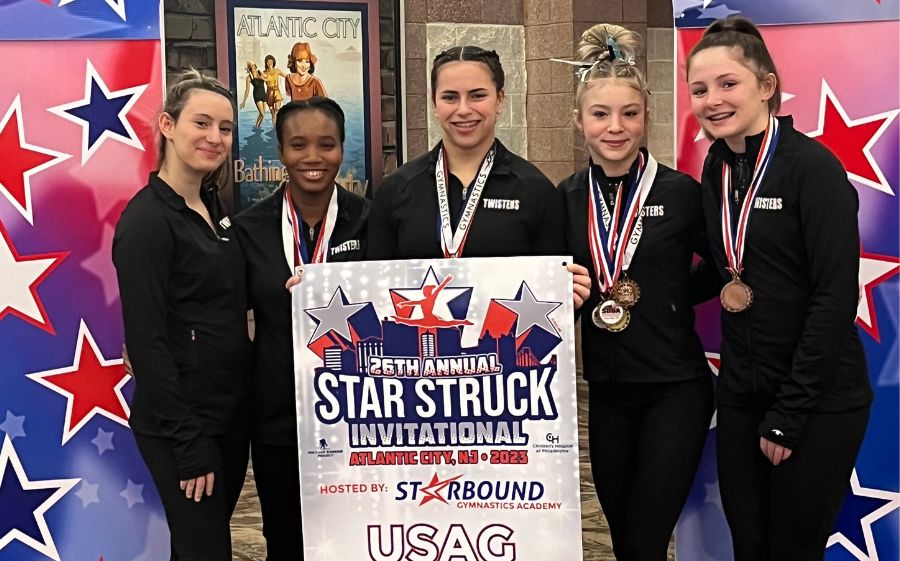 Published: 01/20/2023 - 8:00 AM
Willow Grove YMCA Twisters won 5 individual event titles and the level 8 team placed 4th in Atlantic City this past weekend at the 26th Annual Star Struck Invitational. The Twisters were led by Toni Dallas who scored the highest all-around for the team with 36.7, and won the floor title with a 9.550.
Takeaways
Level 8: Hannah Winters captured her third vault title of the season with a 9.275. Sydney Jones won her second beam title of the season scoring a 9.250.
Level 4: Lena Coleman won the vault title for the second consecutive meet with a 8.9 and finished second all-around with a 36.6.
Xcel Gold: Avery Godburn won the bars title with a 9.4, her third bars title of the season.
Routines of the Weekend
Marissa Woodling - Floor
Avery Godburn - Bars
Kiera Bruton - Beam
Amira Wardlaw - Bars
Delaney Mook - Floor
Payton Hinkle - Bars
What's Next?
The next competition for Willow Grove is the Eastern Pennsylvania YMCA Girls Gymnastics League Meet hosted by Bucks and Hunterdon Counties January 21st - 22nd.
Top 3 Finishers
Xcel Gold
Avery Godburn: 1st Place Bars
Simi Mabogunje: 3rd Place on Floor
Xcel Platinum
Marissa Woodling: 2nd Place Floor, 3rd Place Vault
Xcel Diamond
Toni Dallas: 1st Place Floor, 3rd Beam, 3rd All-Around Kiera Bruton: 3rd Place Floor
Level 4
Angelina Raysor: 2nd Place Beam
Lena Coleman: 1st Place Vault, 2nd Place All-Around, 2nd Place Bars, 3rd Place Beam
Peyton Achilles: 2nd Place All-Around, 2nd Place Bars, 2nd Place Floor
Aubrey Smith: 3rd Place Floor
Level 6
Leah Skrocki: 2nd Place All-Around, 2nd Place Floor
Level 7
Amira Wardlaw: 2nd Place Bars, 2nd Place Vault, 3rd Place All-Around
Level 8
Sydney Jones: 1st Place Beam Hannah Winters: 1st Place Vault