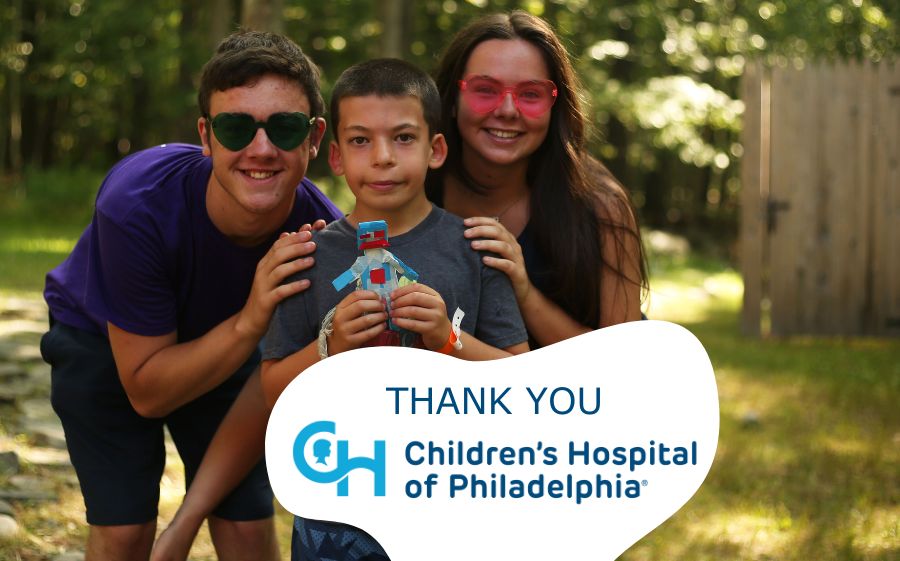 Published: 09/01/2022 - 8:00 AM
Thank you to our amazing partners at CHOP for their continued participation in and support of our Dragonfly Forest Camp!
It is not often that a major sponsor of a program also plays an integral role in its day-to-day success! Our partnership with Children's Hospital of Philadelphia (CHOP) has an immense impact on the program, yielding the largest source of volunteers - which are at the core of our work and keep the Dragonfly Forest program running. The Greater Philadelphia YMCA, which includes the teams at Camp Speers, are extremely grateful for the support, participation, and leadership provided by the experts at CHOP.
Dragonfly Forest Camp:
At our 2022 Dragonfly Forest Summer Camp, 152 children with Autism, 22Q, Asthma, Sickle Cell Disease, and Hemophilia, experience full access to the scope of activities provided by the YMCA during these specialized camp sessions over the course of 5 weeks. Programs are designed with adaptations that allow campers to feel safe and welcome, offering small groups of youth the same intellectual, physical, and social engagement that all children deserve yet is often inaccessible to the disabled community.
Our Partnership with CHOP:
Every year, we engage more than 15 nurses, doctors, respiratory therapists, and other medical professionals who volunteer their time with Dragonfly Forest. We remain grateful to have this ongoing partnership with CHOP and its incredible staff to make Dragonfly Forest possible. The involvement of the experts from CHOP helps our campers feel more comfortable, confident, and independent. The medical team will also take time each week to educate campers about their specific diagnoses and how to advocate for themselves.
We are looking forward to many more years of providing an unmatched camp experience at Dragonfly Forest alongside our partners at the Children's Hospital of Philadelphia.
---
Check out the impact the YMCA has on the Greater Philadelphia area: