Purpose-driven Work
At the Y, we focus on strengthening the communities where our branches are located. We understand that each community is different, which is why we take such great care in offering programs and services based on the needs of each neighborhood. If you are looking to make an impact with your career, we have a role where you can learn and grow.
Every team member at the Greater Philadelphia YMCA is guided by our mission of Connecting People to Healthier Lives. That connection with members and to each other is seen and felt across every department.
As part of our team, you will have the opportunity to make a profound difference in a cause-driven organization, where social responsibility permeates the culture. As one of the largest YMCAs in the country, serving over 240,000 members and participants in 6 counties with 2,500 employees, we have the size and scope to make real and positive change in the communities we serve.
Y Branch Teams
Each of our branches represents a unique community with people of all ages and backgrounds. Being a part of the branch team gives you the opportunity to make a direct impact in your neighborhood and create connections with members, while pursuing your passions in some of the following roles:
Aquatics
Camp
Childcare
Maintenance
Membership
Programming
Sports
Wellness
Association Office
Help support the initiatives, and membership of our 15 branch locations. The association team works directly with our branch teams to ensure they are capable of making the greatest impact in the communities we serve. Be part of our talented association team in one of the following areas:
Accounting
Administration
Community Outreach
Financial Development
Human Resources
Information Technology
Marketing
Operations
Investing in You
Working at the Y gives you the opportunity to strengthen communities and change lives, including your own. No matter what role you take on at the Y, you'll show up each day with the satisfaction of knowing your contributions are helping to empower young people, improve health and well-being, and inspire action in your community. Working side-by-side with diverse leaders from different backgrounds, you'll discover new ways to connect with your community, find your purpose, and fuel your passion every day!
Some benefits and perks of working at the Y can include flexible work schedules, a free family membership, discounted programming, participation in the Y Retirement Fund, health and wellness benefits, and opportunities for continuing education and professional training and development.
We work relentlessly to strengthen communities, starting with you. At the Y, we help you reach your full potential by offering development opportunities such as coaching, career-pathing, and training through our comprehensive leadership development and certification system.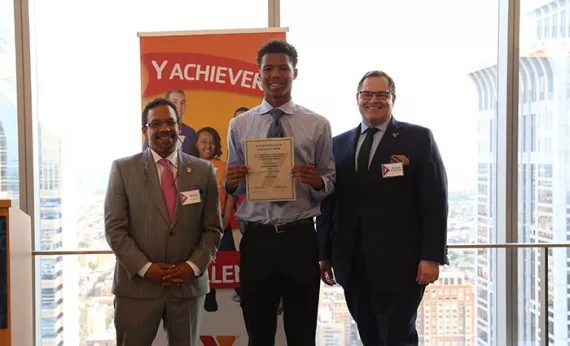 #YforAll
We value diverse perspectives and experiences and encourage our staff to serve in positions that allow their individual skills and talents to shine. Across our organization, you'll find opportunities to strengthen the community while growing your career in a variety of settings and locations.
Our branches are inclusive environments, where everyone can feel comfortable and welcome. As a representative of the Y, you'll be responsible for ensuring these values are maintained and celebrated. 
We frequently offer new and exciting opportunities for professionals at varying levels of their careers. Check back often, and we know there will be an opening that's the right fit for you!
The Greater Philadelphia YMCA is an equal opportunity employer. The Y considers all applicants for employment without regard to race, color, religion, sex, national origin, age, physical or mental disability, or status as a Vietnam-era or special disabled veteran or other protected classification and in accordance with applicable laws.