The Phoenixville YMCA (PAY) Swim-Team, established in 1967, is a year-round competitive swim team offering high quality professional coaching and technical instruction for all ages and abilities from novice to nationally ranked. We have a proud tradition of developing strong swimmers and strong people – we use swimming as a vehicle to teach and develop fundamental life skills such as self-discipline, personal responsibility, physical fitness, and the pursuit of excellence.
The goal of PAY is to provide every member an opportunity to improve swimming skills and work toward achieving his or her highest human potential, both as an athlete and member of society. We aim to educate our swimmers and parents on the value of goal-setting, deliberate practice, and sportsmanship; and work to put these ideas into practice daily.
As a YMCA and USA Swimming team, we prioritize the development of our athletes at the local, state, and national levels. At the local level, we compete in two leagues – the Penn Del Swim League and the Tri County Swim League – the Penn Del is a "winter league", and the Tri County is a "summer league". At the regional level, we compete in YMCA Districts, YMCA States, and Junior Olympics. At the National Level, we compete in YMCA Nationals, USA Swimming Junior Nationals, and the US Olympic Team Trials.
We pride ourselves on working hard to become better individuals and having fun supporting each other throughout the process. The relationships our swimmers form with each other and the lessons they learn during their time as PAY swimmers last a lifetime.
Registration Information
Current Swimmers: Current swimmers who are on the team will register through our TeamUnify site.
New Swimmers: Any new swimmer to the team will be required to register for an evaluation period prior to registering for the team. They are able to register for the evaluation period by speaking with anyone at the Connection Center or our Member Service Representatives in the branch. Interested swimmers can also contact phoenixvilleswimteam@philaymca.org.
Team Levels:
Level 2 (Novice II)
Level 3 (Novice I)
Level 4 (Junior II)
Level 5 (Junior I)
Level 7 (Senior II)
Level 8 (Senior I)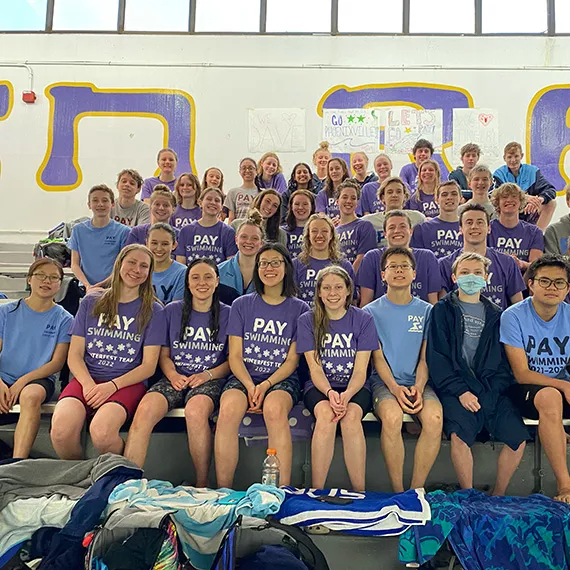 Evaluation Information
Registration is required and limited space is available. The evaluation is free and you do not need to be a member to register for and attend the evaluation. However, if your swimmer is told by coaching staff they are ready and do continue on, the swimmer must become a full privilege member and will be charged the price of the team.
Ages: There are evaluations available for each level of team that we offer (ages 6-18).
What to Bring:New participants should wear a one piece bathing suit and bring their own swim cap and goggles. We recommend that all swimmers also bring a water bottle.
What to Expect: New participants will be evaluated by a swim team coach during their scheduled evaluation time. They will be asked to show their skills and while being assessed to be assigned to their most appropriate swim team level. Swim team differs from swim lessons; swim lessons are run in smaller group usually with no more than a few swimmers in at a time, compared to a swim team that can have up to 6-8 swimmers per lane and roughly 2-3 coaches on deck.