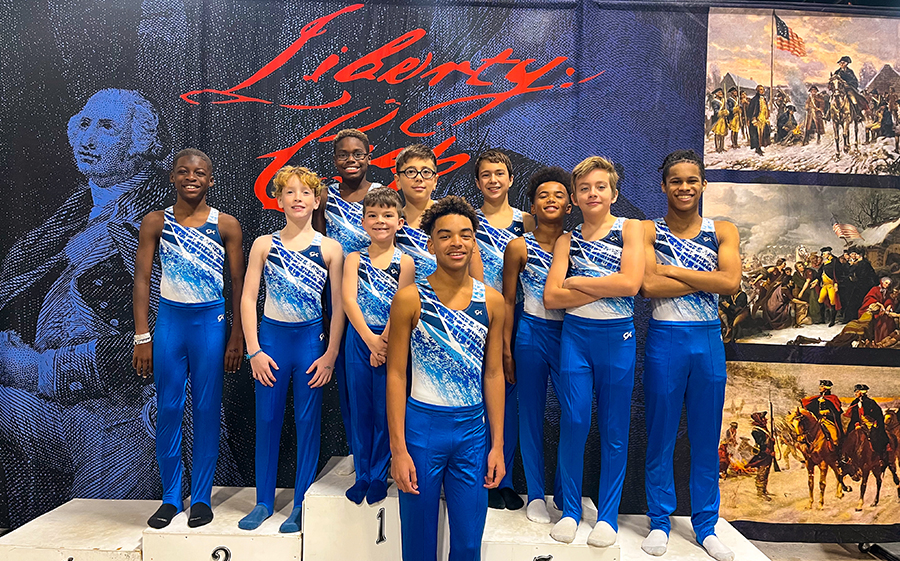 Published: 12/09/2022 - 8:00 AM
The Willow Grove YMCA Twisters level 3 D2 team won first place at the Liberty Cup with a team total of 161.00 on Saturday December 4th at the Greater Philadelphia Expo Center.
Takeaways
Level 3 D2: Benjamin Coleman won the highbar title and second place in the all-around with a score of 53.500. Reigning rings state champion Skyler Tremblay, won his first rings title of the season with a score of 9.3.
Level 3 D1 Team: Finished second as a team with a total of 172.500.
Level 3 D1: Robeson Frey won two event titles on pommels (9.3), highbar (10.1), and second place all-around. Samir Smith won two event titles on floor (10.1) and vault (9.5).
Level 4 D1: Jason Raysor won vault with a 9.6 and second on highbar (10.1).
By the numbers
The Willow Grove YMCA Twisters brought home nine individual events titles at the 2022 Liberty Cup. Over fifteen teams from across the region competed throughout the weekend in Oaks, Pa.
Routines of the Weekend
Twisters Pommels Line-Up
Samir Smith - Rings
Skyler Tremblay - Rings
Robeson Floor
Lucas Sim - Rings
Jason Raysor - Highbar
What's Next?
The next competition for the boys will be the Brian Babcock Invitational February 3-5 in Allentown, Pa. The Twisters Level 3 D2 team will look to defend their Brian Babcock title from last season.
Top 3 Finishers
Level 3 Division 2: Jr B
Luca Sarullo: 2nd Place Pommels, Pbars, 3rd Place Vault, All-Around
Level 3 Division 2: Jr A
Benjamin Coleman: 1st Place Highbar, 2nd Place Pommels, Vault, All-Around, 3rd Place Rings
Skyler Tremblay: 1st Place Rings, 2nd Place Pbars, Highbar, 3rd Place Floor, All-Around
Artur Baghdasaryan: 1st Place Pbars
Nick Nasib: 3rd Place Pommels, Vault
Kaleb Ball: 1st Place Vault
Level 3 Division 2: Jr A
Robeson Frey: 1st Place Pommels, Highbar, 2nd Place Rings, All-Around, 3rd Place Floor
Samir Smith: 1st Place Floor, Vault, 3rd Place Highbar, All-Around
Ian Pack: 2nd Place Floor, 3rd Place Pommels
Level 4 Division 1: Jr A
Jason Raysor: 1st Place Vault, 2nd Place Highbar