At the Willow Grove branch, we are serious about our swim team! We are known as the Hurricanes, and offer competitive swimming year round for various age groups. We cater to both novice and advanced swimmers from ages 6-18. Our experienced coaches work with swimmers of all ability levels to help them develop and achieve their full competitive swim potential, while promoting the YMCA core values of honesty, respect, caring and responsibility.
We participate in the Penndel Swim League in the winter and the Lower Bucks Swim League in the summer. Swimmers compete in dual meets throughout each season, as well as invitationals and championship meets. We also offer competitive swim clinics in the fall and spring that focus on technique improvement in each stroke, turns, and starts.
Our goal is to provide a positive, safe, fun environment where each swimmer can learn and grow, both as an individual swimmer and as a teammate. We strive to have each swimmer enjoy being a member of our team, achieve their individual competitive swim goals to the best of their abilities, and simply enjoy swimming!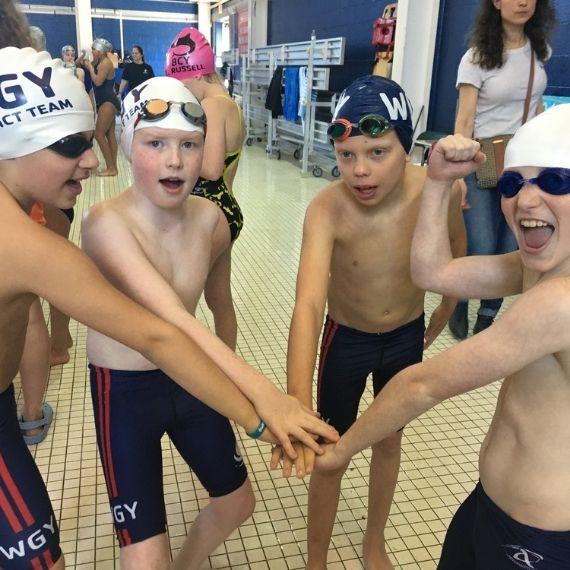 Registration Information
Current Swimmers: Current swimmers who are on the team will register through our TeamUnify site.
New Swimmers: Any new swimmer to the team will be required to register for an evaluation period prior to registering for the team. They are able to register for the evaluation period by speaking with anyone at the Connection Center or our Member Service Representatives in the branch. Interested swimmers can also contact Nicole Rudnitsky directly at nicole.rudnitsky@philaymca.org.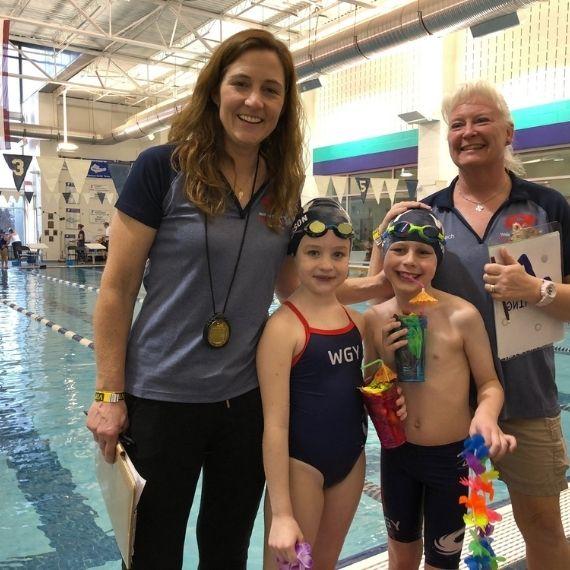 Evaluation Information
Dates: September 13th-September 24th; participants that are being evaluated will practice with the appropriate age group for a 2 week period. The evaluation times are the same as the practice times for that given age group during those two weeks.
Ages: There are evaluations available for each level of team that we offer (Levels 1-5, ages 6-18).
What to Bring: New participants should wear a one piece bathing suit and bring their own swim cap and goggles. We recommend that all swimmers also bring a water bottle.
What to Expect: New participants will practice with the team for a 2 week period. They will swim for the entire length of practice. Parents will not be permitted on the deck during the duration of practice. The swimming will be fairly continuous. Swim team differs from swim lessons; swim lessons are run in smaller group usually with no more than a few swimmers in at a time, compared to a swim team that can have up to 4-6 swimmers per lane and roughly 2-3 coaches on deck.
Swim Team General Info
There are 5 different levels of swim team. The season starts the week of September 13th and runs through January 28th. Some swimmers will continue to compete into February depending on which championship meet that they qualify for. Below you will find the ages, practice times, and descriptions.
Level 1
Ages: 8 & Under
Practice Times: Tuesday, Thursday, and Friday from 5 pm - 5:45 pm
Description: For swimmers 8 and under who are not yet legal in all 4 strokes, but can swim one length of freestyle with basic rotary breathing and 1 length of backstroke. Swimmers should be able to perform the basics of a dive.
Level 2
Ages: 9-10
Practice Times: Tuesday, Wednesday, and Friday from 5:45 pm - 6:45 pm
Description: For swimmers ages 9-10 who are learning to become legal in all 4 strokes and need more endurance. These swimmers are able to dive and do a basic flip turn/open turn. They are able to swim a 50yd freestyle and 50yd backstroke.
Level 3
Ages: 11-12
Practice Times: Monday, and Thursday from 5:45 pm - 7 pm, and Wednesday from 6:50 pm - 8:05 pm
Description: For 11-12 year old swimmers who are mastering flip turns, open turns and starts. These swimmers are still working on technique, but are generally legal in all four stokes. They can swim 50yds of all strokes. They are learning to read a practice and use a pace clock. They also need to work endurance.
Level 4
Ages: 13-14
Practice Times: Monday, and Thursday from 7:05 pm - 8:15 pm; Tuesday, and Friday from 6:50 pm - 8:00 pm
Description: Swimmers ages 13-14 that are legal in all four strokes. Can swim 100yd freestyle and 100 yd backstroke. Can follow a written practice and pace clock with coach guidance. Working on mastering starts and turns.
Level 5
Ages: 15-18
Practice Times: Monday, and Thursday from 7:05 pm - 8:15 pm; Tuesday, and Friday from 6:50 pm - 8:00 pm
Description: Swimmers ages 15-18. These swimmers have a good level of endurance and are legal in all 4 strokes. These swimmers can swim 100yds of all strokes and have mastered starts and turns. They are also able to read/follow a practice with little or no coach guidance.