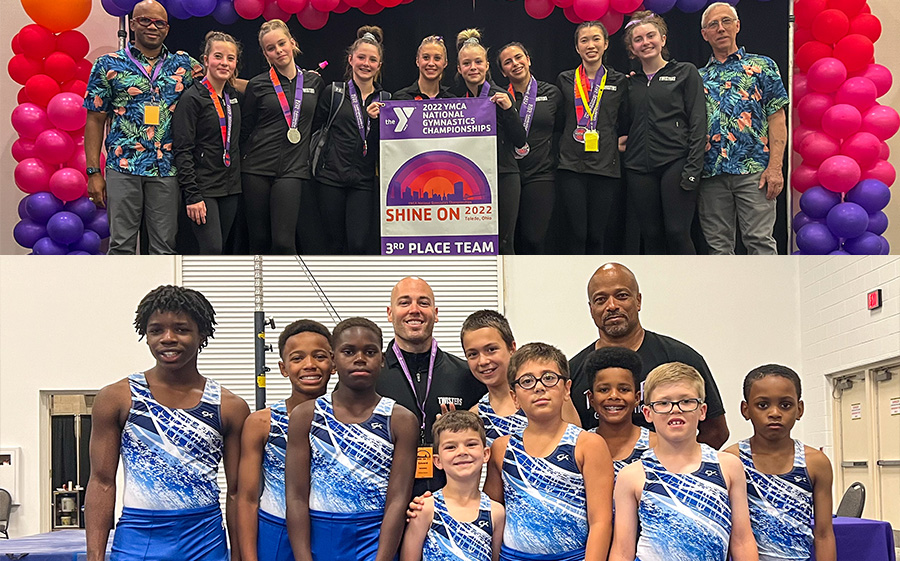 07/22/2022 - 06:38 AM
Willow Grove is now home to 13 national champions. The Willow Grove YMCA Twisters boys' and girls' gymnastics team won a combined 23 individual national titles. The YMCA National Championships was held in Toledo, Ohio. The Level 7's won 3rd Place team and the Diamond Team placed 4th.
High School seniors Carly Girgenti and Na Hoffmann finished their careers at the YMCA on top. Girgenti won the all-around, beam, and vault titles for the Diamond level. Hoffmann won floor and vault titles for Level 9.
"Getting to finish my senior year off with 3 national titles was so exciting. I worked really hard and I'm so glad it paid off." Said Girgenti. "I had an awesome time and I'm grateful for my experience at the Y!"
This is the first national championship for the Willow Grove YMCA which opened on December 19, 2019.
"I am so glad I was finally able to go to nationals one last time after 3 years." Says Hoffmann who is attending Penn State University in the Fall of 2022. "Happy to have finished my Y career on good note and I'm so grateful that I was able to do so with my Twister Family cheering me on!"
Below is a list of the Willow Grove YMCA Twisters National Champions:
Olivia Weiser: 1st Bars (Silver)
Emma Mihok: 1st - Beam (Level 3)
Jason Raysor: 1st All-Around, 1st Floor, 1st Pommel Horse, 1st Vault (Level 3 DI)
Nathanael Barlow: 1st Pbars, 1st High Bar (Level 3 DI)
Benjamin Coleman: 1st All-Around, 1st Rings, 1st Pommel, 1st Vault, 1st Pbars (Level 3 DII)
Caze Shakoor: 1st High Bar (Level 3 DII)
Artur Baghdasaryan: 1st Floor (Level 3 DII)
Carter Mihok: 1st Floor, 1st Vault (Level 3 DII)
Sydney Jones: 1st Bars (Level 7)
Angelica Thomson: 1st Bars (Level 7)
Carly Girgenti: 1st Vault, 1st Beam, 1st All-Around (Diamond)
Marianny Bisono-Cumba: 1st Bars (Level 6)
Na Hoffmann: 1st Vault, 1st Floor (Level 9)
Top 3 Finishers
Xcel Silver
Gabrielle Sims: 3rd Floor
Layleani Velez: 2nd Bars
Elizabeth Castro: 3rd Bars, 3rd All-Around
Olivia Weiser: 1st Bars
Xcel Gold
Payton Hinkle: 3rd Vault
Xcel Diamond
Kiera Bruton: 3rd Beam
Toni Dallas: 2nd Bars, 3rd All-Around
Carly Girgenti: 1st All-Around, 1st Vault, 1st Beam, 3rd Bars
Level 3
Emma Mihok: 1st Beam
Level 4
Abigail Hromisin: 3rd Bars
Level 6
Marianny Bisono-Cumba: 1st Bars, 2nd Vault, 2nd All-Around, 3rd Beam
Olivia Lee: 2nd Vault
Level 7
Team: 3rd Place
Sydney Jones: 1st Bars
Remi Sasson: 3rd Vault
Angelica Thomson: 1st Bars
Allison Lessig: 3rd Bars
Level 3 DII
Benjamin Coleman: 1st All-Around, 1st Pommel, 1st Rings, 1st Vault, 1st Pbars
Artur Baghdasaryan: 1st Floor
Carter Mihok: 1st Floor, 1st Vault
Nicholas Nasib: 2nd Pbars, 3rd Floor
Luca Sarullo: 2nd Rings, 3rd Floor, 3rd Vault
Caze Shakoor: 1st Hbar, 3rd Pommel, 3rd All-Around
Level 3 DI
Nathanael Barlow: 1st Pbars, 1st High Bar, 2nd Vault, 2nd All-Around, 3rd Rings, 3rd Floor
Ian Pack: 2nd Floor, 3rd AA, 3rd Rings, 3rd Pbars, 3rd Pommel
Jason Raysor: 1st All-Around, 1st Pommel, 1st Vault, 2nd Rings, 2nd Pbars, 3rd Hbar