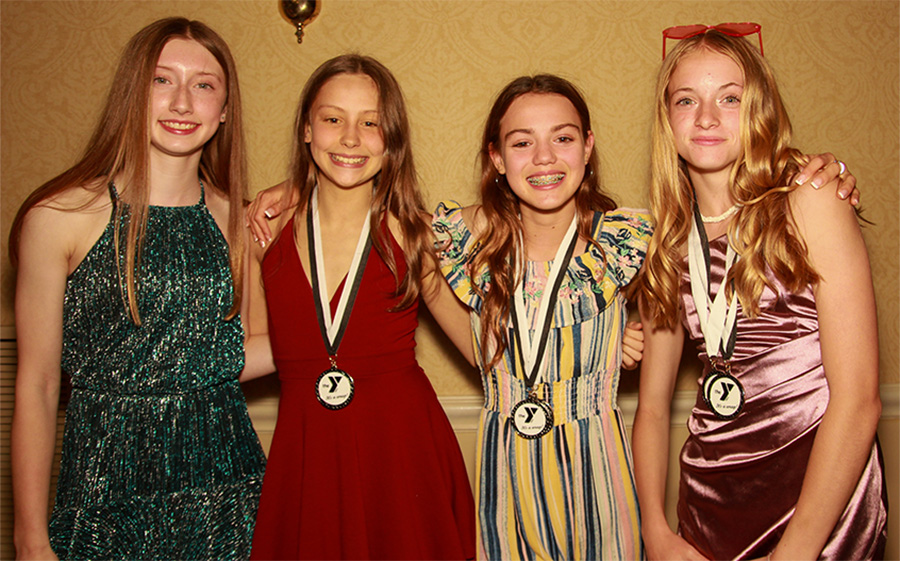 05/23/2022 - 10:27 AM
The Willow Grove YMCA Twisters Gymnastics Awards Banquet took place on Tuesday evening, May 17, to honor teams and gymnasts for their accomplishments during the successful 2021-2022 season. The Twisters girls and boys team won a combined 75 State titles for the competitive season. The Twisters gave out many awards and honors this evening.
A complete list of award winners can be found below.
Twister of the Year: This award goes to the gymnast who consistently contributed to the team score.
Compulsory Level
Stella Dougherty
Optional Level
Gianna Novelli
Xcel Level
Elizabeth Castro
Boys
Jason Raysor
Most Improved: The following gymnasts have shown the greatest overall improvement throughout the competitive season. These individuals were chosen not only by the results in scores, but through the feedback of the coaching staff.
Level 3
Rowan Kenyon
Level 4
Lena Coleman
Level 5
Rozanne Spector
Level 6
Marianny Bisono-Cumba; Skye Williams; Olivia Lee; Campbell Pfeffer
Level 7
Payten Sullivan; Remi Sasson
Xcel Silver
Emily Scarlett; Olivia Weiser
Xcel Gold
Mara Patrick
Xcel Platinum
Aaliyah Robinson
Boy Level 3 D1
Rayan Mahmood
Boys Level 3 D2
Ibrahim Elgayar
Coaches Award: The coaches selected the following team members that have shown the positive attributes of being a "coachable" athlete. These gymnasts have been selected for their consistent positive attitude, hard work and the gymnast who is able to "make the change" from the coaches' feedback.
Compulsory Levels
Ariella Biedka; Francesca Sarullo; Angelina Raysor
Xcel Levels
Nyah Henderson-Torres; Sarina Rimeris; Avery Godburn; Grace Gardner
Optional Levels
Olivia Lee; Allie Krawczyk; Carly Girgenti
Boys Level 3 D1
Ian Pack
Boys Level 3 D2
Luca Sarullo; Braeden Culp
Character Development Award: Caring, Honesty, Respect and Responsibility are the core values of the Y. The following gymnasts have been chosen by their coaches for their sportsmanship, kindness and leadership skills as a competitive team member.
Compulsory Levels
Emma Mihok; Addison Matlack; Samantha Waterfall
Xcel Levels
Abby Rosenbaum; Maile Concepcion; Marissa Woodling
Optional Levels
Na Hoffmann; Ella Tor; Kiera Bruton; Leah Skrocki; Julie Johnson
Boys Level 3 D1
Nathanael Barlow
Boys Level 3 D2
Benjamin Coleman
Highest Averages
Level 3
Vault
Stella Dougherty (9.1)
Uneven Bars
Ariella Biedka (8.9)
Balance Beam
Emma Mihok (8.875)
Floor Exercise
Kaitlin Bullik (8.875)
All Around
Stella Dougherty (35.1); Francesca Sarulla (35)
Level 4
Vault
Lena Coleman (8.75)
Uneven Bars
Cersei Pfeffer (8.6)
Balance Beam
Karleigh Sowden (8.7); Peyton Achilles (8.65)
Floor Exercise
Lena Coleman (8.725); Addison Matlack (8.7); Aubrey Smith (8.7)
All Around
Abby Hromisin (33.55)
Level 5
Vault
Roxy Spector (8.85)
Uneven Bars
Averi Brady (8.35)
Balance Beam
Averi Brady (8.2)
Floor Exercise
Roxy Spector (8.9)
All Around
Avery Brady (33.75)
Level 6
Vault
Cara Neeld (8.85); Dhaminn Kim (8.8)
Uneven Bars
Cara Neeld (8.8); Olivia Lee (8.7)
Balance Beam
Dhaminn Kim (9.2); Leah Skrocki (9.1)
Floor Exercise
Campbell Pfeffer (9.2); Delaney Mook (9.2)
All Around
Dhaminn Kim (35.65); Cara Neeld (35.45)
Level 7
Vault
Gianna Novelli (8.95); Kasey Schwalje (8.7)
Uneven Bars
Gianna Novelli (8.95); Sydney Jones (8.85)
Balance Beam
Gianna Novelli (9.15); Sydney Jones (9.05)
Floor Exercise
Gianna Novelli (9.375); Sydney Jones (9.225)
All Around
Gianna Novelli (36.425); Sydney Jones (35.55)
Level 8
Vault
Hannah Winters (9.0)
Uneven Bars
Hannah Winters (8.7)
Balance Beam
Hannah Winters (8.3)
Floor Exercise
Hannah Winters (8.815)
All Around
Hannah Winters (35.5)
Xcel Silver
Vault
Sarina Rimeris (9.175); Leila Wang (9.0)
Uneven Bars
Brenna Miller (9.25); Olivia Weiser (9.2)
Balance Beam
Nyah Henderson-Torres (9.275); Brenna Miller (9.1); Ava Fedele (9.1)
Floor Exercise
Sarina Rimeris (9.185); Gabrielle Sims (9.05)
All Around
Brenna Miller (36.3); Elizabeth Castro (36.1); Sarina Rimeris (36.1)
Xcel Gold
Vault
Rebecca Fischman-Cohen (8.675)
Uneven Bars
Eva Buchakjian (9.2); Kendall Goodwin (9.125)
Balance Beam
Bridget Donaghy (9.0); Serene Abdikarimova (8.975)
Floor Exercise
Kayla Mullin (9.1); Avery Godburn (9.05)
All Around
Serene Abdikarimova (35.45); Avery Godburn (35.05)
Xcel Platinum
Vault
Marissa Woodling (8.6)
Uneven Bars
Marissa Woodling (8.075)
Balance Beam
Marissa Woodling (8.175)
Floor Exercise
Marissa Woodling (9.25)
All Around
Marissa Woodling (34.1)
Xcel Diamond
Vault
Toni Dallas (8.75)
Uneven Bars
Toni Dallas (9.1)
Balance Beam
Kiera Bruton (8.8)
Floor Exercise
Toni Dallas (9.175)
All Around
Toni Dallas (35.4)
Boys Level 3D1
Vault
Nathanael Barlow (9.6) Rings: Jason Raysor (10.3)
Pommel Horse
Jason Raysor (9.8)
Horizontal Bar
Nathanael Barlow (10.1)
Parallel Bar
Jason Raysor (10.1)
Floor
Jason Raysor (10.7)
All Around
Jason Raysor (60.3)
Boys Level 3D2
Vault
Caze Shakoor (9.16); Nicholas Nasib (9.16)
Rings
Carter Mihok (9.1)
Pommel Horse
Rayan Mahmood (8.66)
Horizontal Bar
Caze Shakoor (8.8)
Parallel Bar
Carter Mihok (8.8)
Floor
Michael Bullick (8.66)
All Around
Caze Shakoor (51.9)