Outdoor Pool
Make a splash this summer!

We can't wait to see you next summer!
Splash, swim, and play your way to a fun and safe summer at the Y. The outdoor pool will reopen in the summer of 2023 for another great season!
Our world-class Outdoor Pool Center includes a family fun pool, splash pad, water slides, designated lounge spaces for members, and convenient locker rooms. 
Are you looking for Indoor Pool Hours? View Indoor Pool Hours HERE
Hours of Operation
The outdoor pool is closed until summer 2023.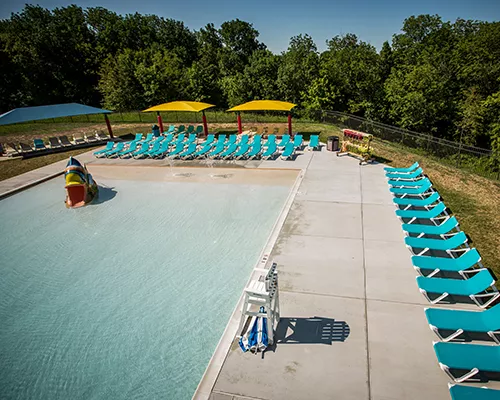 Pool Access
Just one of the many benefits of membership - active Y members receive access all summer long to enjoy our Outdoor Pool facility free of charge. Not an active member of the Y, but interested in learning more?
Family or guests without an active Y membership will not be allowed entrance. Nationwide reciprocity will not be honored.
Facility
No guests will be allowed entry to the Outdoor Pool. Nationwide reciprocity will not be honored for pool entrance.
Please enter and exit through the pool gates. Bathrooms and showers are open. Only swim diapers are permitted in the pool. 
Coolers and outside food are allowed. Alcoholic beverages are prohibited. Smoking and glass containers are not permitted.
Swim
All swimmers 16 and under must be swim tested and banded. Two tests are available – a shallow water test and a deep water test. Anyone who cannot pass either swim test will be required to wear a flotation device. Those who do not wish to take the swim test can enter the pool with a floatation device.
Children 6 and under must be accompanied in the water by an adult even after successful completion of the shallow or deep water test.
Please see an off-duty lifeguard if your child wants to take the swim test.
Flotation
Please bring Coast Guard-approved flotation for all non-swimmers or those whose do not wish to take the swim test. 
These can include lifejackets and puddle jumpers. Nothing inflatable will be permitted for use as a flotation device.
A very limited number of flotation devices will be available. Flotation devices are not a substitute for adequate supervision.
Slides and Toys
We will have slides open this summer for members. Slides will be available only during designated times.
All riders 16 and under must be swim tested and banded. 
There will be no mermaid tails or blow up toys permitted at the Outdoor Pool.