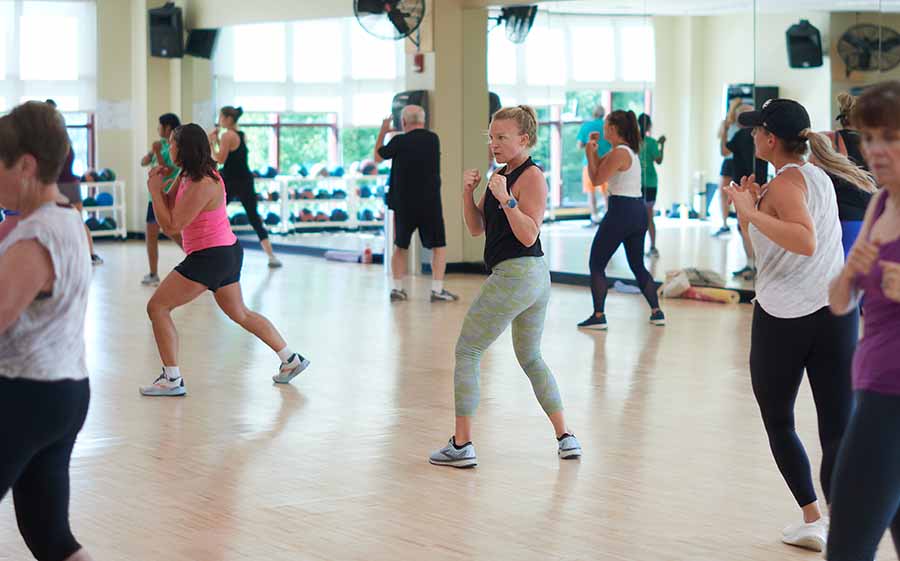 Published: 08/04/2023 - 8:00 AM
You've probably passed by a group workout class before and heard the loud music and the encouraging and energetic instructor. You've likely seen class participants smiling, sweating and having a great time getting active. But do you know just how many benefits you can enjoy from joining a group fitness class? Learn more about various benefits and the great group exercise classes available in the Greater Philadelphia Area to get you active and motivated below. 
5 Ways You Can Benefit From Group Exercise Classes
Check out some of the top five benefits of group fitness classes below. After reading about these great benefits, you may want to give an exercise class a go yourself. Be sure to check out the wide variety of group exercise classes offered at branches across the Greater Philadelphia YMCA locations.
1. You Feel Closer to Your Community
One of the best benefits of group exercise classes is interacting with other people in your community. Through a group workout class, you can meet new people with similar interests. You'll most likely encounter a diverse group of people — some that you may never have met otherwise. These connections and friendships can then extend into your personal life.
If you're shy or more reserved, a group fitness class may feel intimidating at first. You may be surprised how many others feel similarly and how these shared feelings can make it even easier to start a conversation and connect meaningfully.
Kids can benefit from community connection too. Some facilities, like the Greater Philadelphia YMCA branches, offer child care services during your workout. While you're having fun and building relationships, your kids can also make connections and build friendships with other kids in the community. 
Human connection impacts our lives significantly, and in a society of remote work and packed schedules, meaningful human interactions are more needed than ever. A group fitness class is just the first step to widening your social circle and being more engaged with those around you.
2. You Find Motivation and Stay Accountable 
Imagine you've had a long day at work, and you had planned to hit the gym on your way home. During your drive, you realize how tired you are, so you decide to just head home instead. It can be easy to push exercise to the bottom of the priority list when juggling a busy schedule. However, canceling your gym session one day can lead to a few weeks, then a few months, and eventually, you fall behind on your fitness goals. 
Now imagine the same scenario, but instead of hitting the gym alone for a solo session, you are attending a group class. When you build a social circle in group exercise classes you will have friends and an instructor who expect to see you, and will notice when you stopped showing up. 
They may even reach out to remind you how missed you are in class. This support can help motivate you to stay accountable on your path to being fit and healthy.
Also, since group classes are held on set dates and times, you can build your gym time into your weekly plans early on. Group classes are also typically held on the same days and times, so you can create an easy routine to follow throughout the year. 
3. You Learn Proper Exercise Forms and Techniques
Trainers that run group fitness classes have special qualifications and training that let them teach or coach people in certain exercises. They can demonstrate the correct form for different exercises so you can minimize your risk of injury. They're also there to answer any questions or guide you through any difficulties. This means you can get the most out of the class and your exercises since you're performing the exercises correctly and, therefore, receiving the maximum benefits of the workout. 
Both beginners and experts can benefit from feedback on their form — this helps you keep improving. Instructors are also great to have around because they can help modify certain exercises to meet your needs. If you're a beginner, returning from an injury or need an extra challenge, instructors have the know-how to meet your needs and give you the best — and safest — modifications.
4. You Diversify Your Exercise Routine
Along with demonstrating correct form, class instructors take out all of the planning or organizing that comes with working out. In other words, they've constructed a workout routine, so all you need to do is show up and try your best to follow along. You no longer have to research or create your own exercise regime — you can trust your instructor to create a challenging and well-balanced workout. 
Group instructors keep things fresh by switching up the exercises you do. This lets you work other muscles and keeps the class exciting because you never know what new exercise moves you'll try. If you're looking for even more variety, you can look at taking multiple different types of group exercise classes. For example, yoga and boxing are two very different types of classes, and you can choose what meets your needs for that week.
5. You Push Past Your Limits
It's sometimes tempting to take shortcuts when exercising alone. Maybe you cut your session short because you've already had a long day, or you round up the reps you've completed because something is better than nothing, right?
While some physical activity is certainly better than nothing, you could be doing a disservice to yourself if you take frequent shortcuts. In a group fitness class setting, you'll see those around you pushing through the session, which can also inspire you to keep going. You'll also have encouragement from the instructor, which makes you even more determined to finish the full set. Pushing yourself and achieving new goals or personal records can help you feel more confident in your abilities.
Join a Group Exercise Class at the Greater Philadelphia YMCA
If you're ready to enjoy all the benefits of a group exercise class, it's time to take advantage of the group fitness classes in the Greater Philadelphia Area by joining your local YMCA. A Y membership gets you unlimited access to our various group classes, so you can enjoy as many classes as you wish. Choose from a wide selection of engaging and fun classes that get you moving, like yoga, barre, and dance classes. 
To make things even more convenient for our valued members, we offer child care services so you can enjoy your class knowing your kids are engaging with others with other children their age. Learn more about our membership options to connect to a healthier life today.